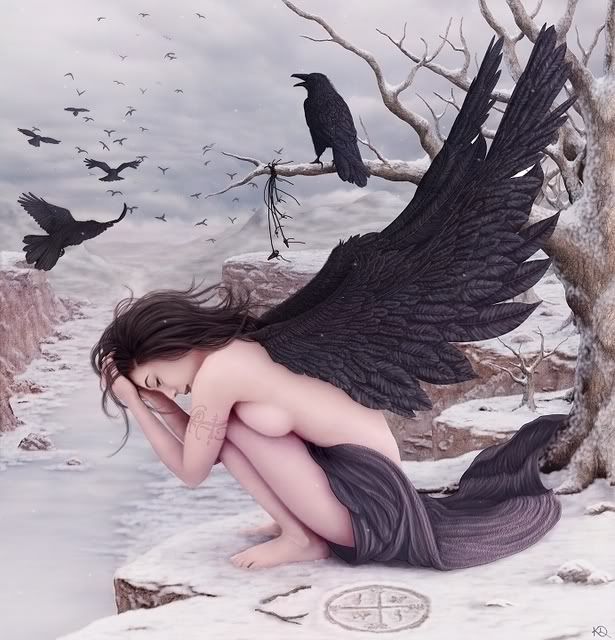 HAPPY NEW YEAR.
I have no idea where this came from - got the picture off the web... but I felt such a kindred to it that I had to publish it. It is beautiful. A beautiful woman, a wealth of stunning black ravens...)I believe it is called an "Unkindness" of ravens... at more could a person wish for?
I wish you all a wonderful new, baby new year, with all of its Hope. I don't know many for whom 2008 has been a boon... certainly not for myself. I'm still lounging about, seeking a job which has yet to materialize. I'm facing some rather interesting financial dilemmas, of which I have no idea under the sun about how they will turn out. Thanks goodness I've always believed in Fairy Tales.
I wish you peace - those of you whom I've come to know and depend upon as blog friends. Without
each
and
every
one of you, my fun here in blogland would be uncertain. I think especially of my honest artist flautist friend
Lisa
- who I am sure is plotting her newest freezing snow hearts up there in Toronto, as well as my most loyal & wonderful Swedish friend
Jeanne
who sends me fabulous presents even though I haven't even sent out a single card this holiday...and my dear exotic Hungarian vampire buddy
Ariel
who takes the most fabulous pictures of all time... also wondering how my token Icelander
Minka
is doing now that she is back to the grind after such a wonderful holiday in Germany...as well as the wry American Chicagoan writer
Doug
we all know and love whose presence we have ached for immensely... wondering how my only nurse friend
Jillie
is managing the holidays without her sweet friend Cay (XOXO) and thinking of a dear old white doggy
Icy
and her amazing genius muse
Tom
of whom I'd not be able to get along without; wondering about my sweet and innovative WCS - West Coast Sister Gina
(G)
who I think is not so different than I... her music is much missed these days and I think of her often when I hear new (or old ha ha) music :) ... Speaking of innovative.. I have to mention the friend of the Goddess-
YellowDog Granny
who knows how to make a person's sides ache with laughter and truth, as well as
Lime's
ever interesting points of knowledge about the PA life, tie dye or the food from Trinidad (Oh Michelle I still would die for one of your masterpiece t-shirts...) ... I'm always hungry after visiting her blog :) Have been wondering about a green musician genius from Ireland
Gareth
who manages to infuse local beauty, humor, and if we are lucky music into his amazing posts; thinking especially about
Dr. John
- whose dragony blog I found one day and never stopped returning to because - well, because he has not only found the magic but shares it... Life would not be the same without the Iceland blessings/influences of my amazing artiste friend
Mo'a
, who not only shares her fabulous art online but also shares her treasures wth some of the fortunate few of us online... or another ICELANDER
Mz. Northern Musings
who shares amazing tales of her Land such as polar bears, new gardens and burned up Koffebarin stories... and don't think I've forgotten to mention the talented
Nessa
who gives us passionate stories year after year... (most without an ending I might add)... and the most unique

Ms Jamie Dawn

who has impressive sermons, artware, garden pictures and advice...
I know I will be in trouble because there is no way my brain (which only functions semi efficiently) will be able to do justice to my personal blogroll, I'll just tell you that right off the bat. Just know that
every single one of you on my side blogroll
is as important and dear as the next - and each touches me in a way no other can possibly. In fact there are many more whose names aren't even mentioned, that I visit from time to time and they enrich my life in ways I can't even tell you with their art, visions and sagas.
Oh my there are so many more I know I shall not mention everyone dear who has touched my life in a personal way, but I can't not mention
Cie
who has a view everyone should be privy to, as well as the ever dry-humored
TLP
whose birthday I share, and a very beloved old friend
Agnes
who seems to be on exactly the same wave length as me in every way... I think of my eccentric friend
Lone Grey Squirrel
who is forever sharing fabulous points of interest with us, and I swoon over the amazing
Keshi
who never seems to run out of either titillating material or enthusiasm... I love hearing from the real live school teacher
Fred
because I identify with him on so many levels - daughters, parent, doggy owner... he always has such a happy persona;
and what about that stunning photo queen who
never fails
to put out the most great pictures and captions who prefers to be known as my sweet bud

Sister Celtic
at Lopez Island - and honorable mention to the smartest biker/trivia KING in the world
Mr. Knowitall Galen
...
I love my old friends
Actonbell
with her funny beer, art and co-worker stories,
Sherri
with her own funny but peculiar co-worker and baby Hannah stories,
Cheers to my newer friends
Chez Aspie
and
Photowannabe,
and oh crap,
there are a million
more I don't have the brains to just pull up out of my rear...as well as some dear missed friends
Autumn Storm
and
Trace
from several years past... Thanks so much to my ever loyal sisters
Sal (Heyer Haven)
and
Jules (The Shocker)
, as well as my unknown blogger sis
Kelly
who would be the best blogger ever if only given the chance... whom I will adore all of my life.
HAPPY NEW YEAR,and all the best in the upcoming 2009~
Wishing each and every one of you my very best thoughts and wishes - Love Terry